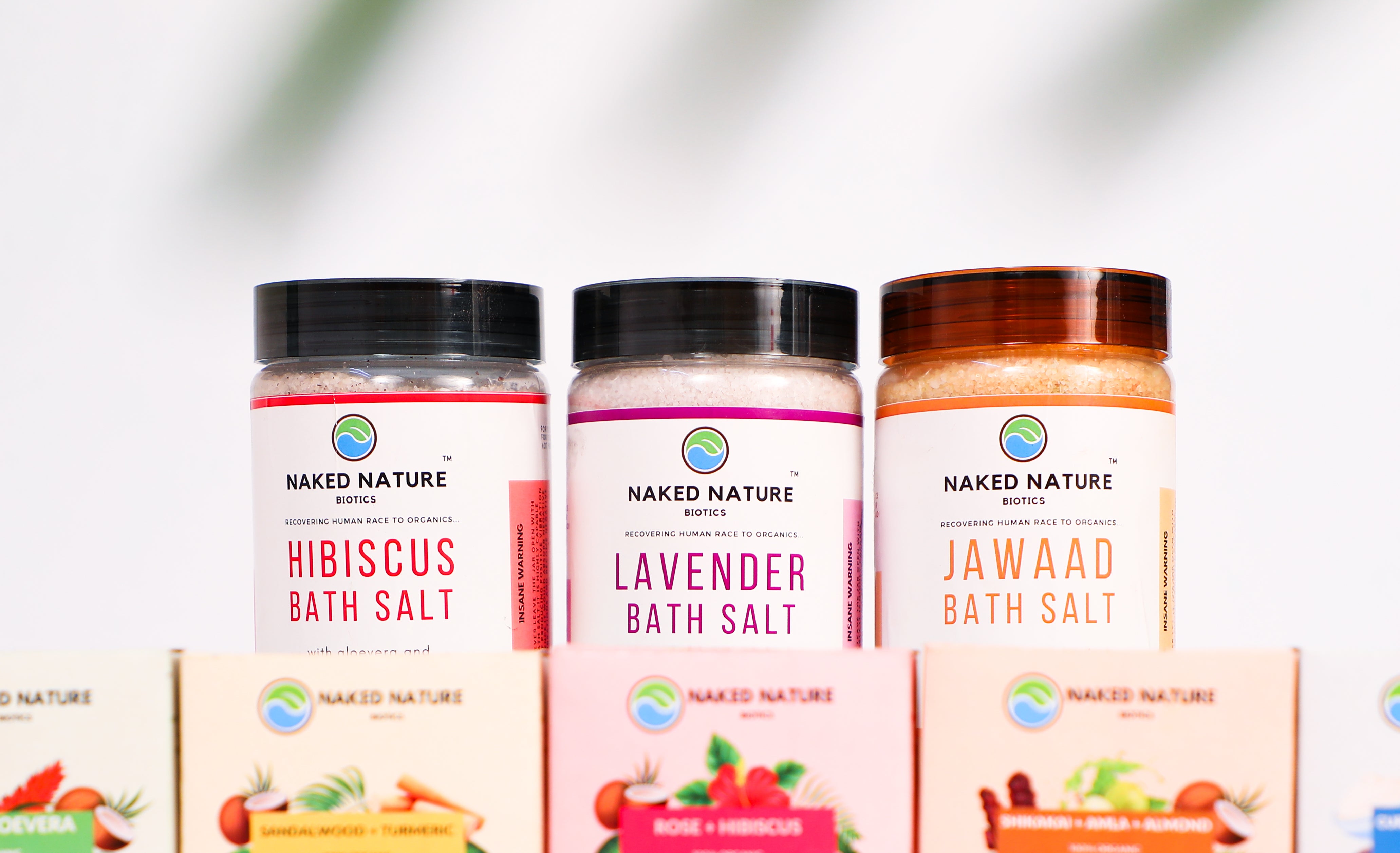 Feb 18 , 2020
BODY HEALING BATH SALTS!!

Every individual start working from dawn to dusk to achieve their goal in life. They travel and work hard to make a comfortable living. In the end of the day all their energy were drained off. Starting their day with bath salt will enhance positivity throughout their day and help them in gaining their energy back. Bathing in bath salt helps to ease muscle tension and cramps. They are believed to remove toxins from the body by improving health. Soap bars can be replaced with bath salts.

Why to choose Naked Nature bath salt?
"WELLNESS IS THE NATURAL STATE OF BODY"
One major reason to choose naked nature bath salt is that our bath salt are free of chemicals. Naked nature are manufactured considering the skin type of the user. It is purely made of naturally available materials. Naked nature bath salt is designed with the motive to satisfy the customer with the best affordable by all.

How to use our Naked Nature bath salts?

• Take 1-2 table spoon of Naked Nature Bath Salt in separate bowl and mix it with coconut oil. Stir the mixture into a paste and apply all over your body and massage gently. Have a normal shower bath after a minutes of massage.
• Mix 1-2 table spoon of Naked Nature Bath Salt in 3 litres of hot water and let them to dissolve. Dip cloth in the hot water containing bath salt and keep it in the pain areas for the relief.
• Repeat the same for 2 alternative days in week for better result.

Benefits of using Naked Nature bath salt
As our bath salt are completely organic. It benefits the user by providing many satisfaction.
• Helps in healing the body pain.
•Releives from sprain and arthritis.
• Acts as an aid in removing scar.
•Controls the stress.
• Acts as a seal to dry skin.
• Provides relief from muscle ache.

Flavours available in Naked Nature bath salt.

Hibiscus Bath Salt:
Choose Hibiscus bath salt, if you wants to add moisture to your skin, to act as an antibiotic to your body and to heal your body pain.

Lavender Bath Salt:
Go for Lavender bath salt, to make your body an antibiotic and to make the body feel fresh.

Jawaad Bath Salt:
Pick Jawaad bath salt to kill the germs in your body and to removes scars.

IMPORTANT INSTRUCTIONS AND PRECAUTIONS TO BE FOLLOWED!! 
Naked Nature Bath Salts were stored in positivity concealing  container to retain its positivity. Results in spreading more positive vibrations.
• Never leave the container open.
• Do not use the salt for hair.
• Do not over use, limit for 2 days in week
DIRECTION FOR USE PROVIDED WITH EACH BATH SALT!!
---